How to add, edit and delete Tags in Asana
This video shows how to add, edit and delete Tags in Asana. There's no real Tags menu and certainly the edit and delete actions are hard to find. In this video I go through how to add, edit and delete Tags. This is especially useful in the free version of Asana where custom fields aren't available.
Transcript
Transcript
In this video I wanted to talk about the use of Tags in Asana. Specifically how you add a new tag, how you edit Tags as it's not always clear and then finally how you can
delete Tags.
If you're on the free version of Asana, Tags are a way to add another field in your tasks. In the paid versions of Asana you can add as many custom fields as you want and then describe them as you see fit. It is a paid feature so in many ways Tags
takes over one of those fields in the free version. Generally I don't use tags in the paid version of Asana but it's not a bad idea if you need an extra field or descriptor in the free version.
To add a Tag, there are two ways to achieve this.
1. By using the three dots at the top of the tasks description and..
2. By Pressing Command T
You can use the Tags field as you wish but clients tend to use it as a priority, or a department, or some other form of descriptor.
To Edit a Tag, and it's not really apparent how you do this. What you have to do is click on the Tag itself and then the Tag view is shown, and looks similar to the project view.
Clicking on the small arrow next to the Tag name brings up the menu of actions. One of these is 'rename' so from here we can edit the tag name. This rename/edit will affect all the tags with that name.
Additional items in this menu are:
* Copy the Tag link – useful for adding to messages or emails or anywhere else where getting back to this screen would be useful
* Change the colour – as described
To Delete a Tag, use the option at the bottom of this list in red.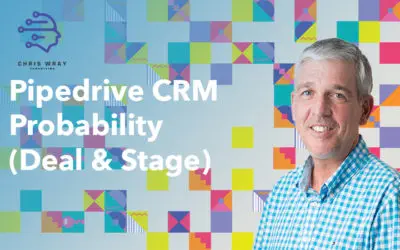 Pipdrive Probability - (Deal & Stage) In this video I explain how to set probability in...
Sign up for my Newsletter
"*" indicates required fields